Within the tourism aspect, Moccasin Trails works closely with major associations, such as Destination BC, Thompson-Okanagan Tourism Association (TOTA), Tourism Kamloops, and Indigenous Tourism BC. These groups distribute brochures to their partners (e.g., hotel/motel associations and visitor centres), and they announce new offers in their newsletters and promote them on their websites.
The associations also employ market research teams that investigate target markets by Explorer Quotient (EQ) types, postal codes, and so on. This information is critical for Greg to focus the advertising budget, such as targeting Cultural Explorers in Vancouver and reaching them with newspaper or digital ads, brochures, and their website.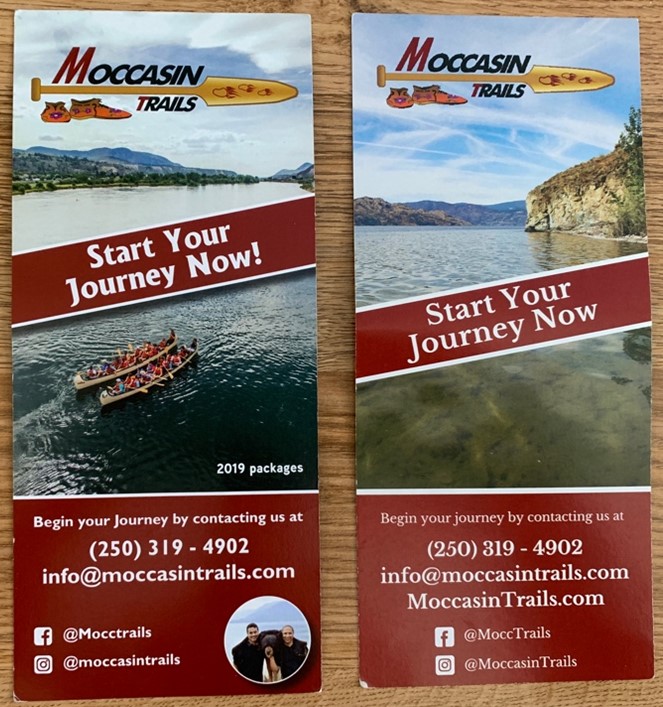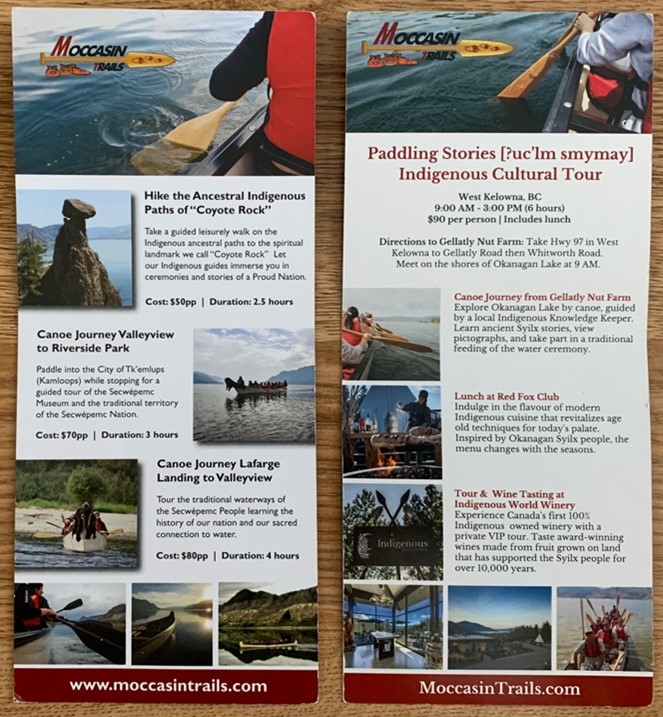 In Kelowna, Greg works with Tourism Kelowna to access hotels through the association's mass email distribution list. To further assist the hotels recommending Moccasin Trails to their guests, he has also personally developed relationships with key hotels, such as the Delta Grand, providing brochures and engaging the front desk staff. This direct marketing approach allows the hotels to recommend the Moccasin Trails experiences and provides incentives, such as discounts for the hotel or guest. Moccasin Trails' brochures are also featured on the website and on social media.
In the larger picture, the company is starting to build relationships with the Indigenous Tourism Association of Canada, being part of their tours for wholesalers. That would also allow access to reduced rates for trade shows, such as Rendez-vous Canada, the nation's largest tourism trade show, either in person or represented through the associations.
Moccasin Trails has started conversations with Air North to take advantage of the direct flights from Whitehorse to Kelowna and provide packages for their guests (e.g., three days). In addition, they discussed training Air North staff to provide a welcome and a short explanation of the traditional territories they land in. Moccasin Trails has not worked with the larger airline companies, instead relying on the tourism associations and their relationships with them.
Purchasing ad space in the guidebooks published by the tourism associations is another promotional avenue. For example, TOTA features "Route 97," which is a cross-border cooperation to market the Highway 97 corridor, and Tourism Kelowna publishes visitor guidebooks. Newspaper ads have not been used. Moccasin Trails does own two large banners that will be used in strategic locations, such as Hotel 540 in Kamloops, hopefully expanding to Kelowna hotels.
Social media promotion currently happens through Facebook, which is handled by Frank, and Instagram, which is handled by Greg. Help is needed to have a social media plan and make posts consistent. The owners have found that social media promotion takes a lot of effort and time; ideally, a social media expert would be utilized but is thus far cost prohibitive. Moccasin Trails tries to post daily but also realizes that responsiveness is key, meaning engaging with customers, replying to comments, providing contact information, and so on. A consultant could also help with the desired digital advertising, such as search engine optimization, Google Ads, Facebook ads, or popup ads.
For the corporate customers, limited resources have been spent to promote this segment. Word of mouth seems to have worked; however, Moccasin Trails plans to make themselves more visible to industry leaders. Greg also wants to utilize his sports connections. Okanagan Lifestyle Apparel — a local apparel company with a similar philosophy of relationships, community, and ethics — are interested to learn more about Indigenous culture and to include it into daily business operations (e.g., a daily ceremony). Moccasin Trails will be featured in their list of things to do for locals.
Based on this, the marketing approach for both Kelowna and Kamloops can be considered B2B. There is no direct connection with the customers, instead relying on ambassadors, front desk staff, and visitor centres. This includes the educational component where Moccasin Trails works with schools and universities on a request basis without promoting these services.
Currently, the company's biggest challenge is to find experts to help with the marketing. This would involve target markets, advertising, branding, logos, and digital advertising. For example, a second, circular logo without text is conceptualized to add to the existing one. Aforementioned grant proposals could provide funding for this, applying through band offices or non-profit organizations. A consultant would be needed to update the marketing and business plan.
"The biggest challenge for us right now is expertise. We're experts in the Indigenous culture and the storytelling and […] building partnerships. We're far from experts in marketing."
Greg admits that the company could do a better job evaluating the experiences based on feedback and metrics. They have conversations with guests but no formal process. It would be useful to capture the transformation and special feelings that visitors go through and use it for marketing. TOTA works with Telus, collecting data on travel destinations, personal data, and duration of stay, combined with their phone searches.
Watch Video Clip 6 – Marketing Materials (Transcript Available) (CC BY-NC-ND 4.0):
Watch Video Clip 7 – Customer Feedback (Transcript Available) (CC BY-NC-ND 4.0):